Speaker Light Kits for your Pinball Machines

Home of the Original Pinball Speaker Light Kit
Any orders placed 10/16/18 - 10/23/18
should ship about 10/25/18.
If an item says it is IN STOCK on the website, but gives an
OUT OF STOCK message when checking out with PayPal,
that means the item is OUT OF STOCK.
Check back in a couple of weeks for the item to be re-stocked.
The website will be updated and running normally by 10/24/18.

Sorry for the delay and Thank You for your business.

My light kit frames are used with color changing LED light strips and a RGB controller to light up and bring some flash to those plain pinball speakers. The 44 key remote makes it easy to switch the LED lighting to many different colors and also switch various lighting effects and transitions (flash, jump, fade, etc...). The 6 Do It Yourself buttons allow the remote to store custom colors that you program yourself.
My Speaker Light Kits work with most Data East, Sega and modern Stern pinball machines.

Be sure to check out the Acrylic Designs section as well as the Accessories page for other items that you may be interested in.

SpeakerLightKits.com - Making your pinball speakers pleasing to the eye, as well as the ear.
Like Speaker Light Kits on Facebook for info on new products, features and accessories. As well as pictures of the latest acrylic designs:

www.facebook.com/speakerlightkits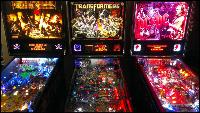 CLICK PICTURE TO ENLARGE