SPIKE 2 name plate PLACARD BACKERS
These SPIKE 2 Placard Backers mount behind the name plates on SPIKE 2 LE, Premium and Pro model games. They add a bit of color matching with the speaker surrounds, backbox t-molding or other trim on the game.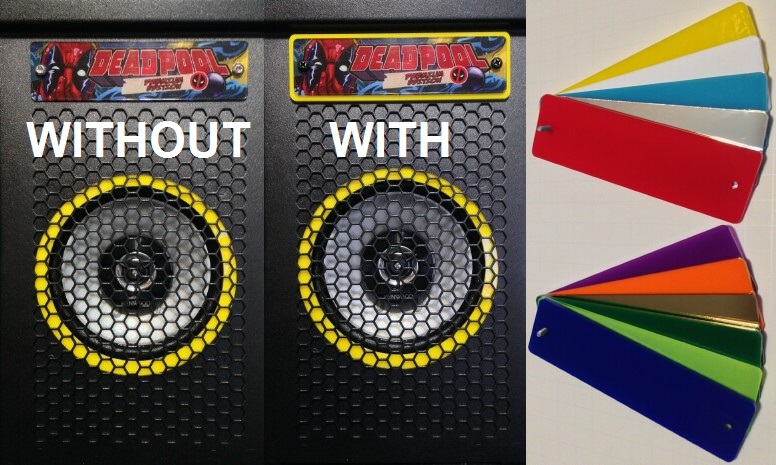 Installing them is as easy as removing the original name plate, putting down the placard backer and then reinstalling the original name plate back on top of it.

It seems that most SPIKE 2 games use torx head screws to hold the name plates in place. These are a T15 torx size, though a T10 size torx driver should also work. In case a person doesn't have a T15 or T10 torx driver, I have a Tr15 torx security L-wrench for sale below.

Another thing you may have to keep in mind is some games have used shorter black Phillips head screws from the factory. These shorter, original factory screws will work fine if your game has a metal LE name plate (as they are thinner than the Premium and Pro plastic name plates), but if your game has the smaller Phillips head screws from the factory and the plastic name plate, you will need longer screws to also use the SPIKE 2 Placard Backers. I have longer screws for sale, in various color options if you would choose to match things up a bit. The screws come in packs of 2.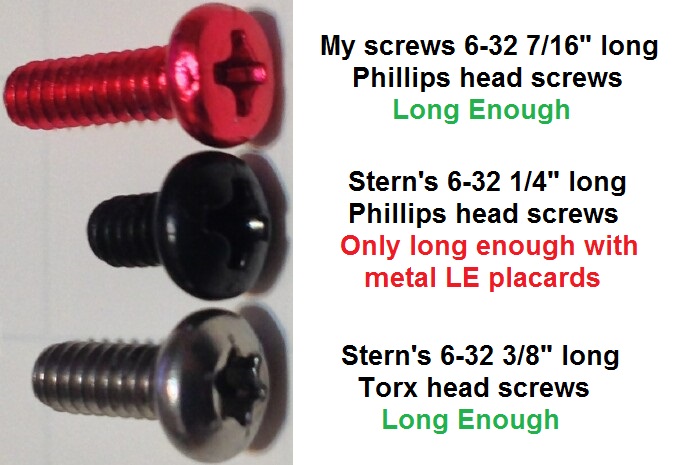 ---

Tr15 Torx L-Wrench





$2.50


IN STOCK

---



2 Pack of Screws

Black / Gold / Red / Silver

$1.00

IN STOCK
---

Blue Placard Backer


$7.50

IN STOCK
---

Fluorescent Green Placard Backer


$7.50

IN STOCK
---

Gold Mirror Placard Backer


$7.50

IN STOCK
---

Green Placard Backer


$7.50

IN STOCK
---

Light Blue Placard Backer


$7.50

IN STOCK
---

Orange Placard Backer


$7.50

IN STOCK
---

Purple Placard Backer


$7.50

IN STOCK
---

Red Placard Backer


$7.50

IN STOCK
---

Silver Mirror Placard Backer


$7.50

IN STOCK
---

Turquoise Placard Backer


$7.50

IN STOCK
---

White Placard Backer


$7.50

IN STOCK
---

Yellow Placard Backer


$7.50

IN STOCK
---